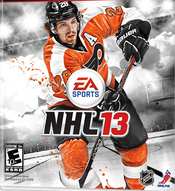 NHL 13 is an ice hockey video game developed by EA Canada and published by EA Sports. It is the 21st installment of the NHL series and will be released on September 11th in North America, and September 14th, 2012, in Europe. The game was released on the PlayStation 3 and the Xbox 360.
There was another yearly vote to determine the cover player. The voting began on March 29th, 2012 with 60 players. The total voting period drew nearly 25 million worldwide votes. Philadelphia Phillies star Claude Giroux was chosen over Nashville Predators' goalie Pekke Rinne in the final round. The cover star was announced at the 2012 NHL Awards in Las Vegas, Nevada.
Like NHL 12, Gary Thorne (play-by-play) and Bill Clement (color) provide commentary for NHL 13.

News
The newest game in the NHL franchise has just been released! These yearly installments bring a myriad of big and small changes. Along with updated graphics, animations, rosters, and presentation, there is plenty to get excited for this year's installment! What are the big changes to expect in this …

Each new year brings an brand new and updated NHL game! What can we expect from this year's newest installment, besides the roste
r changes and other small tweaks? NHL 13 is an exciting game in the franchise, and is much more than just a new yearly installment. What changes are there to expect? What…
Wagnike2
•
In order to hopefully jump start this Wiki and get more people interested in it, the Wikia Content Team has decided to freshen up the main page and the skin. We have also been working hard to create content. However, as this is a yearly series with tons of information per game, we still have tons t…
See more >
More news...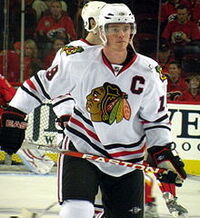 Jonathan Toews who is born on April 29, 1988 is a Canadian professional ice hockey centre who plays for and is captain of the Chicago Blackhawks of the National Hockey League (NHL). He is currently the youngest captain in the NHL, having been appointed in 2008.
He was on the cover of NHL 11.